🎉 Introducing Our Premium Subscription Plans.
Learn more
AI Comic Factory

Create Stunning Comics without Drawing Skills using our cutting-edge AI Comic Generator. Bring Your Comic Dreams to Life with AI Creativity.
Unlock Your Inner Comic Artist
Can't draw? No problem.
Unleash your creativity with AI Comic Factory, where art is no obstacle, and storytelling is a breeze. Dive into a world of comic-making!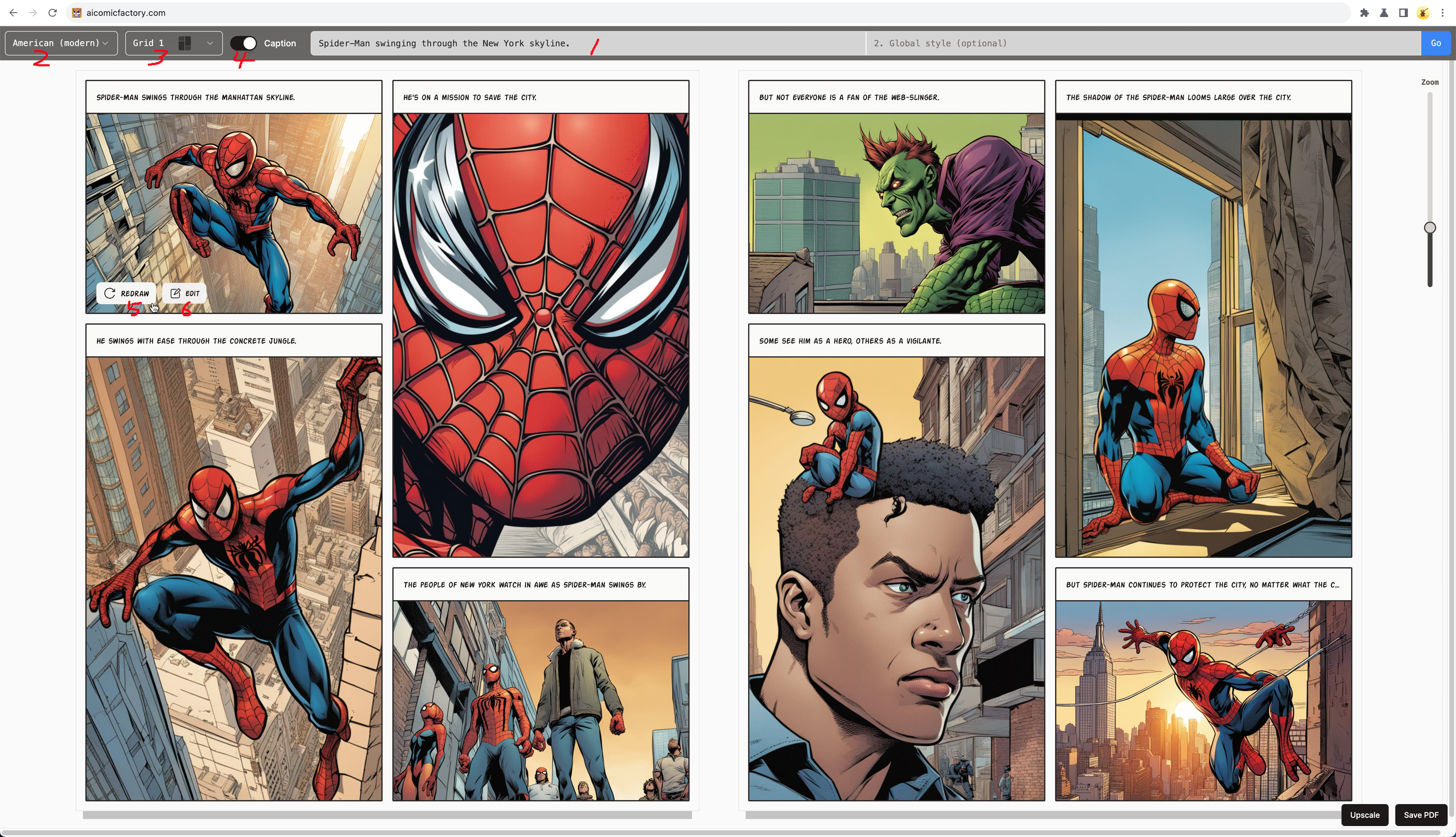 Effortless Comic Generation.

Generate comics with ease by simply describing the characters, styles and scenes. No drawing skills required!

Diverse Comic Styles.

Choose from a wide range of comic styles, including American, Japanese, Nihonga, and more, to give your comics a unique look and feel.

Varied Layout Options.

Select from a range of layouts for your generated images, with more options coming soon.

Captivating Captions.

Enhance your comics with captions that add context to each panel. Control the narrative with descriptive text.

Redraw Image.

If you're not satisfied with the initial result, this feature allows you to start over and create a new version from scratch.

Edit Prompt.

You can easily modify or refine prompt, allowing you to fine-tune the AI's response to better match your creative vision.
Explore Comics Created with AI Comic Factory
Character Comics
Human Comics
A boy going to school with books and bag, enjoying the street full of flower
Un hombre que se mira al espejo, el hombre mirandose al espejo se va conviertiendo en robot, el robot se abre el pecho y busca su corazon
A poor boy finds a artifact that fell from space, That gives him whatever someone near him needs, He just needs to figure it out.
Superhero Comics
captain america punching a giant octopus
Batman as a computer hacker
Mythological Character Comics
Creature Comics
Fantasy Creature Comics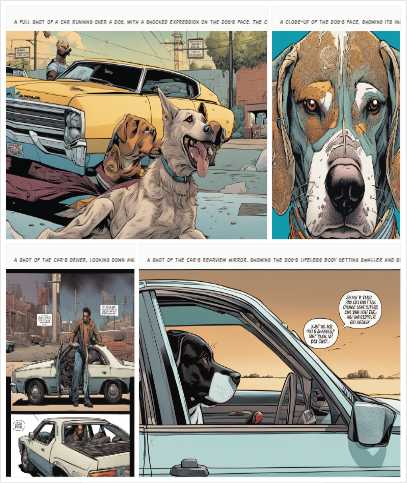 my karma ran over my dogma
Dinosaur Comics
Mystery City, Mark and Jane hide in a cave and a dinosaur tries to get in.
dinosaurs destroy the statue of liberty and planes shoot dinosaurs
a frightening dragon fighting with a robot dinosaur
Other Comics
Comedy Comics
a dog in a house on fire, saying "it is fine"
a tintin style comic with an adventure in the desert
jane mark and her friends enter the time machine and finally return home in the year 2023
Romance Comics
yugi muto and tea gardner have a romantic moment in the style of masamune
A girl on the beach sees the person she loves (her boyfriend), then she runs towards him then hugs him and kisses him
Battle Comics
darth vader fights space alien robot
sharks falling onto San Francisco, people running away
the savage saussage from mars invade manhattan at sunset
User Love and Appreciation
Hear What Our Users Adore About AI Comic Factory
Pricing
Choose your bundle Size
Pay as you want. Generating one image(one panel) will consume 1 credit. Change or cancel your plan anytime. Start using our services for 100% free.
Frequently asked questions